Uncovered
How I left hasidic life
and finally came home
In Uncovered, Leah Lax tells her story–beginning as a young teen who left her liberal, secular home for life as a hasidic Jew and ending as a forty-something woman who has to abandon the only world she's known for thirty years in order to achieve personal freedom. In understated, crystalline prose, Lax details her experiences with arranged marriage, fundamentalist faith, and motherhood during her years with the hasidim, and explores how her creative, sexual, and spiritual longings simmer beneath the surface throughout her time there. The first memoir to tell of a gay woman who spent years in the hasidic fold, Uncovered is the moving story of Lax's journey toward finding a home where she truly belongs.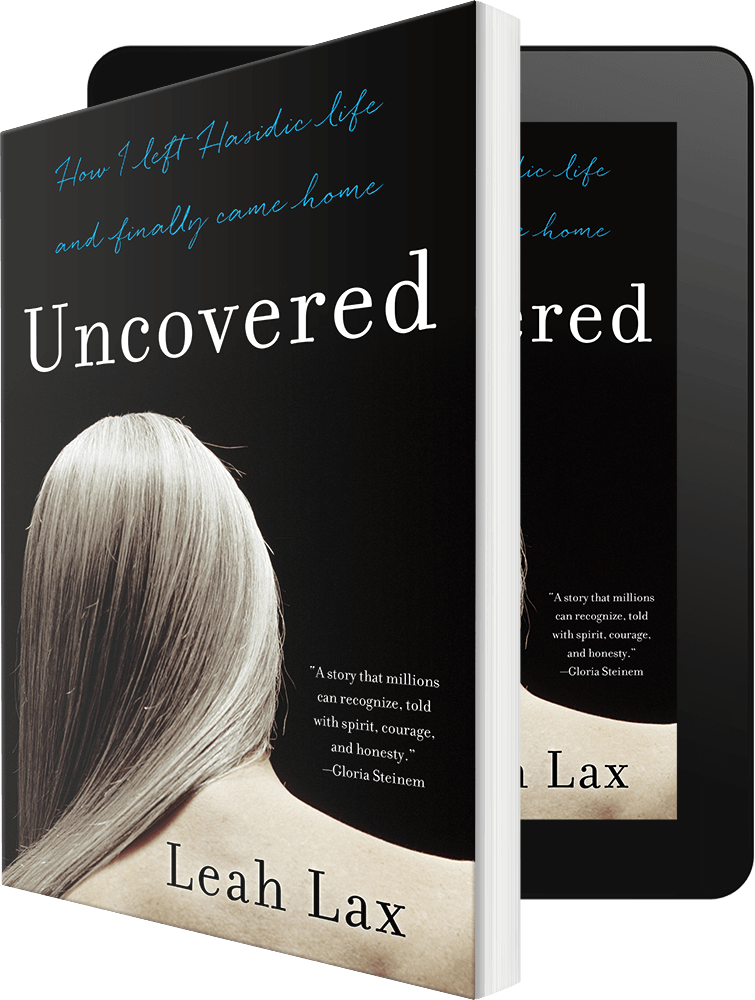 In

Uncovered

, Leah Lax tells a personal story that millions of women can recognize. All over the world are women whose bodies are covered, not by their own decision, but by one of the many patriarchal religions that by definition rule their wombs. Leah Lax lived that life, yet has the spirit, courage and honesty to tell her story. It's been said that, if one woman told the truth, the world would split open. If others follow her, it just might.
Absolutely stunning! With memorable, passionate detail, Leah Lax recounts a unique search for wholeness and healing that paradoxically plunged her into the quicksand of shame. Written in poetic prose whose color and savor will linger long after you finish the book, this memoir makes the flickering appeal of a life of inflexible rules as seductively clear as it is claustrophobic―a remarkable achievement. Dramatic, revelatory, deeply moving, and ultimately inspiring, this is a truly one-of-a kind memoir about the universal longing to discover, nurture, and celebrate one's authentic self.
In this courageous, important book, Leah Lax reveals a voice once doubly silenced by orthodox religion―as a woman and a lesbian―on a deeply moving journey to selfhood. Should be required reading!
Aching, absorbingly told, and with genuine tenderness toward the damaged, struggling, and sometimes helpful souls who populate a life, In

Uncovered

is a marvelous memoir, one in which any reader will find echoes of our own quests for an authentic life.
In

Uncovered

, Leah Lax remembers in rich detail how she moved from loneliness through what promised to be a new family and a new community, into a pure appreciation of the world―and how, instead, it suppressed her deepest needs. Her book is a profound and poignant story of innocence and experience, those ancient universals, and transforming joy at the end.